After a year's absence, the Somorrostro Training Centre once again hosted the twenty-fifth edition of the Marcelo Gangoiti Award ceremony today, Friday 29 April, which went to the company VERSIA.
In this special edition, the gala, enlivened by the singer-songwriter Gontzal Mendibil, was presided over by the General Deputy of Bizkaia, Mr. Unai Rementeria, accompanied by Ms. Ainara Leiba, Mayoress of Muskiz, Ms. Carolina Pérez, President of CEBEK, Mr. Aitor Urzelai, General Manager of the SPRI Group, Mr. Kerman López, Vicar General of the Diocese of Bilbao and Mr. Javier Laiseca, Director of the Somorrostro Training Centre.
The panel responsible for selecting the company to receive the Marcelo Gangoiti Award, has decided to grant the recognition in its XXV edition to the VERSIA Group of Barakaldo. From its origins in Trapagaran to the present day in Barakaldo, more than 30 years of experience endorse Versia's trajectory. Its commitment to innovation and its constant adaptation to change has made Versia a company capable of developing global solutions aimed at improving the competitiveness of its customers, helping them to achieve their strategic goals in this new digital environment. It does so with the precise balance of technology, digitalisation and innovation, and under the pillars of data and software.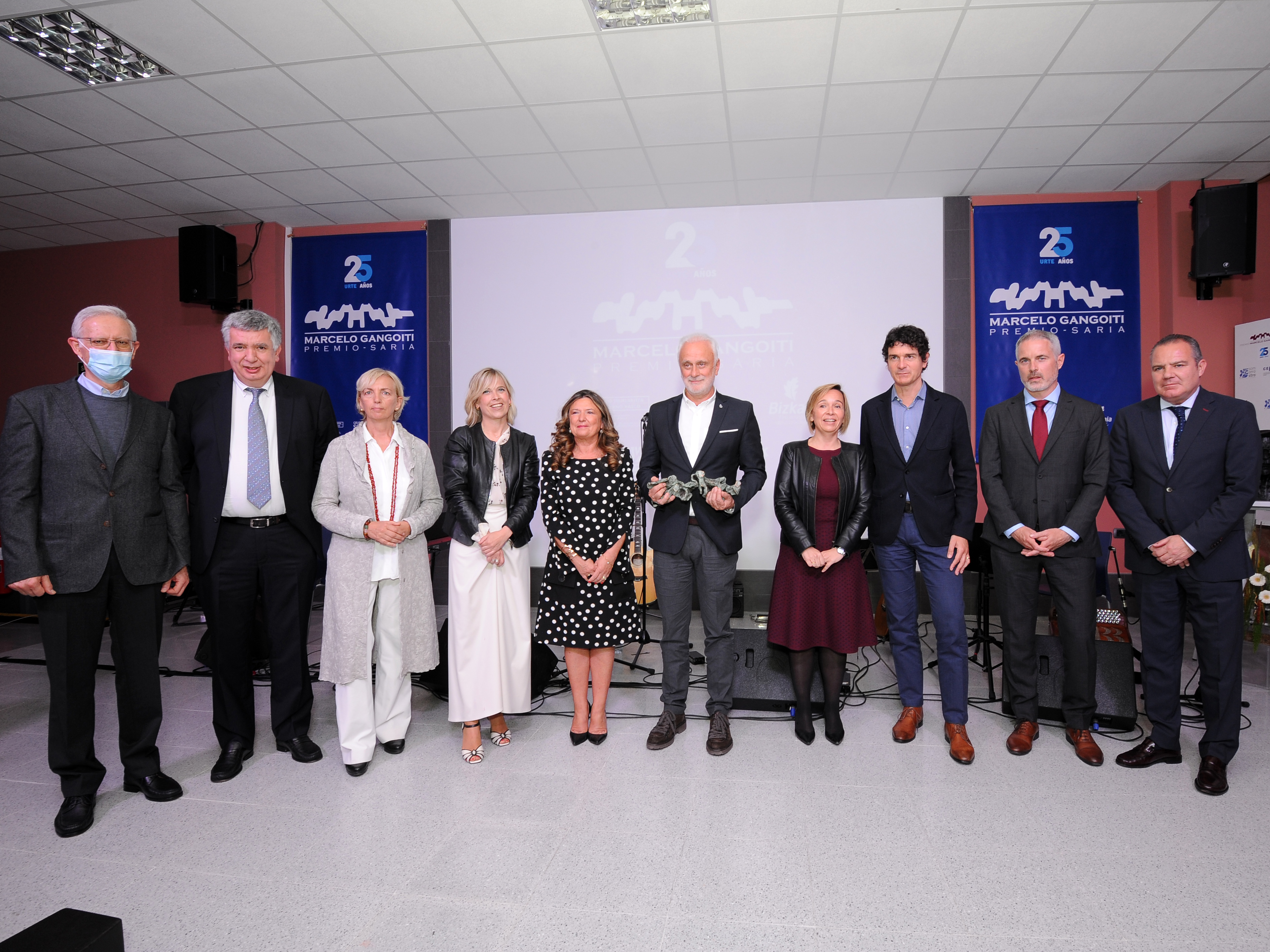 Versia is currently made up of 9 companies, with a staff of more than 900 professionals, 95% of these jobs are in the Basque Autonomous Community; 58% are under 40 years of age; and more than 40% are women. It has branches and service centres throughout the Iberian Peninsula. In 2021 it achieved a turnover of more than 75 million euros.
The event was attended as a special guest, Mr. Jorge Arévalo, Deputy Minister of Vocational Training of the Basque Government Department of Education, who presented the paper "Digital transformation and Vocational Training". Arévalo highlighted how "Basque VET is a benchmark throughout Europe thanks to the work of the centres and institutions" and placed special emphasis on the work of the centres in "training talented people prepared to face the new challenges of the industry, training that Basque VET is leading thanks to digitalisation and the new methodologies that high-performance centres are already using".