The first edition of the MEyFP PROJECTS FAIR was held today in Somorrostro. The aim of this was none other than to show to the different interest groups the existence of these innovation projects that during the  2022-2023 academic year have been developed by a group of teachers of our school. This year there have been 10 innovation projects funded by the Spanish Ministry of Education and Vocational Training and the European Union (Next Generation Funds).
Throughout the morning, students and teachers of all levels, ESO, Bachillerato and VET have been able to get to know them and ask about their details. They have tried virtual reality glasses to get inside a wind turbine, they have seen how hydrogen can be produced with an electrolyser powered by solar panels, they have learned what a "Digital Twin" is and how it can be used in a centre to learn perfectly how a real installation works, they have seen how virtual machines work and they have been able to win a prize by playing a Kahoot with questions about climate change, prepared by the students who participate in the "Virtual MoJo" project, which aims to create audiovisual content aimed at other young people to spread awareness of the climate crisis and its connection with the Sustainable Development Goals.
A wide range of topics were on display in our school today, which were of great interest to the pupils and teachers who visited the fair.
 Photos of the fair in this link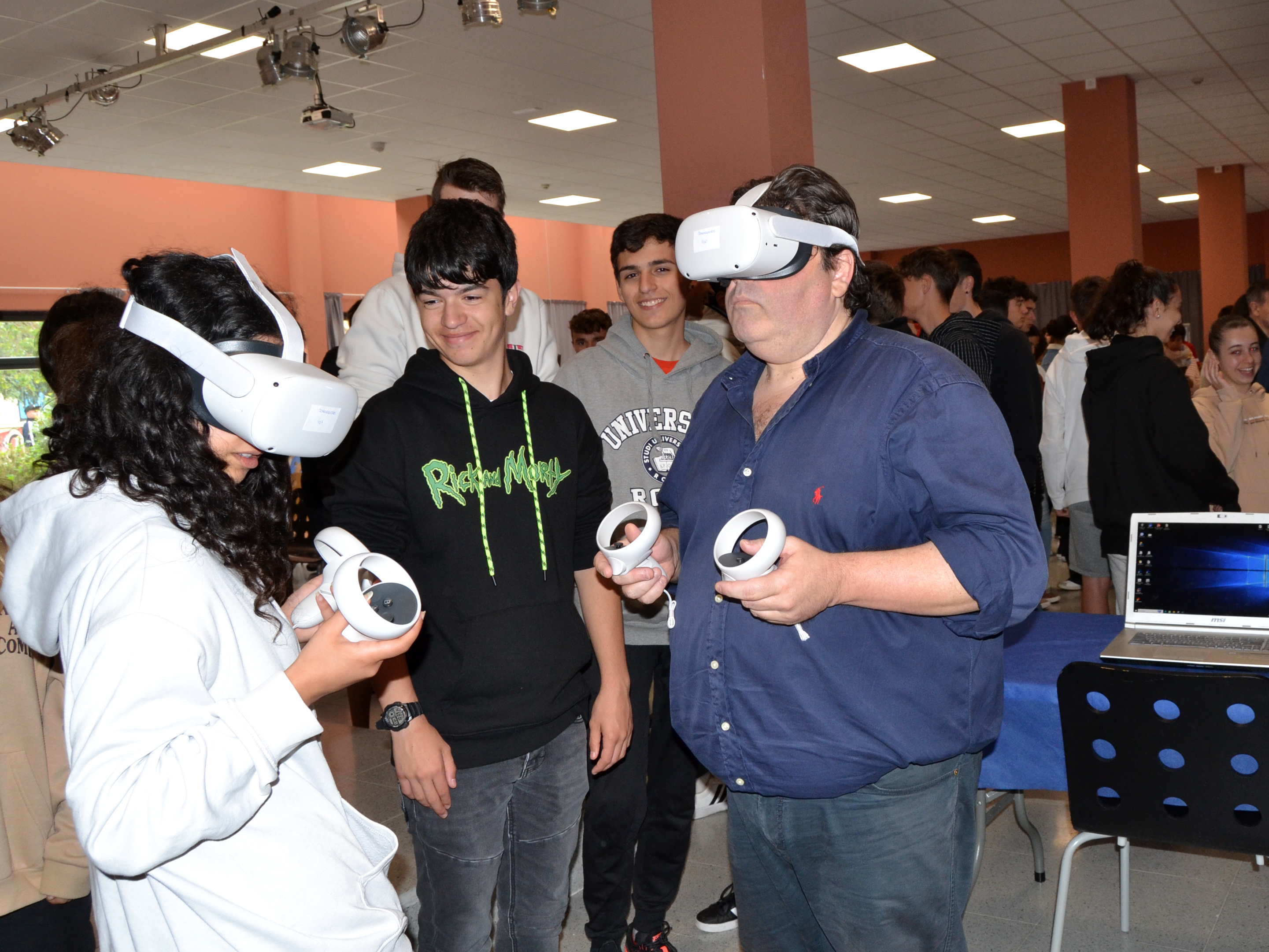 The list of projects funded by the Ministry of Education and Vocational Training for the 22/23 academic year is as follows:
MÁQUINAS VIRTUALES Y E-LEARNING 4.0
LA INDUSTRIA DE PROCESOS CONTINUOS
FP CONECTADA. PACKIN4.0
DIGITAL TWIN BOXES (DTB): ESCENARIOS DE ENTRENAMIENTO COMPETENCIAL INMERSIVO EN PROCESOS Y OPERACIONES DE MANTENIMIENTO INDUSTRIAL
DIGITALIZACIÓN DE UN CENTRO DE MECANIZADO DE 5 EJES (DIGITAL-TWIN) PARA LA SIMULACIÓN DE PROCESOS CAD/CAM CON FINES ACADÉMICOS, MEDIANTE SIEMENS NX.
PRODUCCIÓN DE HIDRÓGENO VERDE POR ELECTRÓLISIS (HELEC)
DESARROLLO COLABORATIVO DE CÁPSULAS FORMATIVAS EN REALIDAD VIRTUAL
VIRTUAL MOJO: JÓVENES E INNOVACIÓN TECNOLÓGICA PARA LA EDU-COMUNICACIÓN DE LA TRANSICIÓN ECOLÓGICA
INTERNET DE LAS COSAS (IOT) APLICADA A LA MONITORIZACIÓN DE LA SALUD Y SEGURIDAD DE TRABAJADORES DEL SECTOR INDUSTRIAL A TRAVÉS DE 5G
REALIDAD VIRTUAL PARA LA FORMACIÓN EN ENERGÍAS RENOVABLES